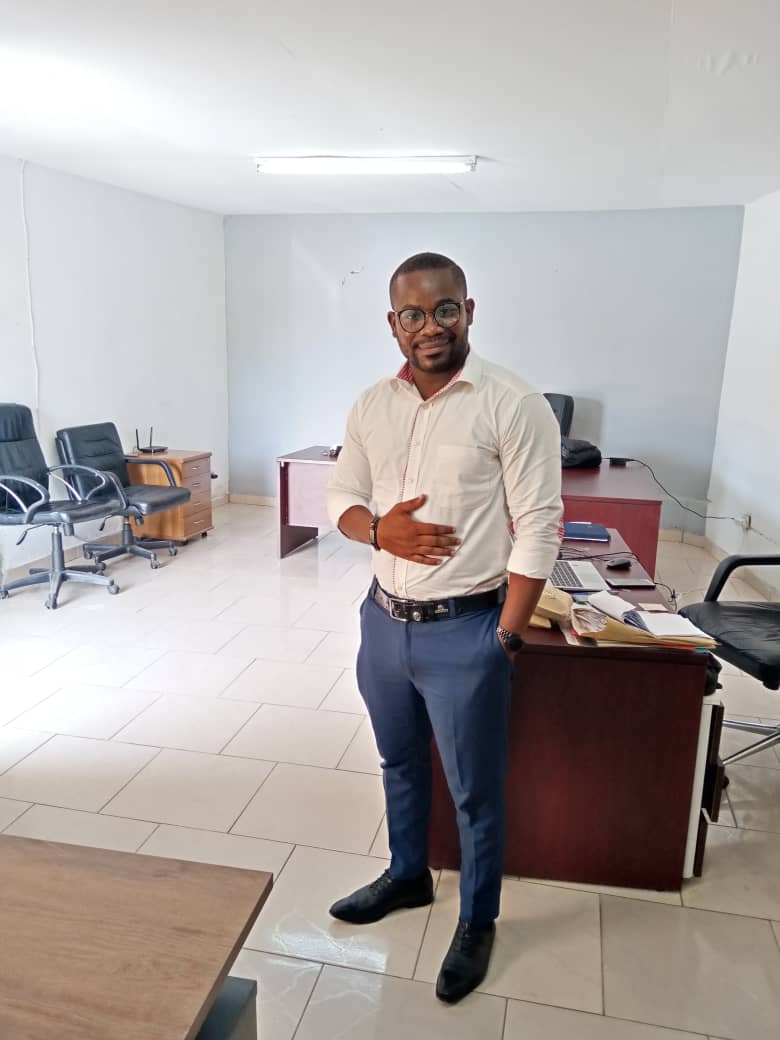 Voici M. Philippe Assoumou!
Il a fait ses premiers pas dans le groupe Onstream en 2019 comme chauffer pour ERG, suite à la mise en disposition du poste de travail. Il rappelle encore ses nerfs du début quand il a découvert son nouvel environnement. Par contre, ceux-ci sont ensuite vite partis grâce au coté accueillant de l'entreprise qui a aidé à son intégration "rapide et professionnelle". Puis en 2021 il a prouvé au groupe qu'il était prêt à gérer des responsabilités plus importantes, et a atteint le poste d'Assistant administratif & financier pour OFS. Quatre mois plus tard, il est à nouveau récompensé avec un nouveau poste qu'il occupera jusqu'à aujourd'hui, celui de Coordinateur Logistique.
Il précise que c'est grâce à sa disponibilité et à sa disposition pour servir les intérêts de l'entreprise de son mieux, qu'il est arrivé là où il est. Ce qu'il préfère le plus de chez Onstream c'est la valorisation des qualités et compétences des ressources humaines, ainsi comme l'opportunité d'évoluer au sein du groupe.
Il encourage aux travailleurs de mettre au mieux leurs compétences et connaissances pour l'entreprise, afin de réussir comme lui. Finalement, il caractérise le travailleur idéal pour Onstream comme quelqu'un qui est capable de mettre en effet la vision du groupe, qui a un esprit d'équipe et qui "est à l'écoute de l'environnement où il évolue".
Du sein du groupe Onstream, nous voulons te remercier la qualité du travail réalisé jusqu'à présent, ainsi comme ton grand dévouement et ton esprit d'apprentissage. Tu as su prouver une très bonne capacité d'évolution, ce qui fait de ton cas un parfait exemple d'un parcours travaillé et mérité dont on peut beaucoup apprendre.
Meet Mr. Philippe Assoumou!
He took his first steps at the Onstream group working as a driver for the company ERG in 2019. He recalls feeling nervous while discovering his new work environment, although that didn't last long due to the welcoming side of the company, which helped him integrate quickly and professionally. Then in 2021, he proved that he was ready to handle bigger responsibilities which led him to become the Administrative and Financial Assistant for OFS. Four months later he accepts his current position, as a Logistics Coordinator for the company OTG.
He states that it is thanks to his availability and willingness to serve the company's interests that he got to where he is today. What he prefers the most about Onstream is the valuation of the quality and competence of the human capital, as well as the opportunity to evolve within the group.
He encourages others to put their skills and knowledge to their best ability for the company, in order to succeed too. Lastly, he characterizes the ideal worker for Onstream as someone who is able to put the group's vision into practice, who is a team player, and who "listens to the environment he evolves at".
Lastly, we would like to thank you for your quality work, dedication and learning spirit. You have proven to possess a great ability to evolve, which makes a perfect example of a well worked and deserved trajectory from which there is much to learn.